Scriptures
May the favor of the Lord our God rest on us; establish the work of our hands for us.
Psalm 90:17
Remember the days of old; consider the generations long past.
Ask your father and he will tell you, your elders, and they will explain to you.
Deuteronomy 32:7
Chapter Motto
Continuity provides roots; change provides branches.
Both are needed to grow and reach new heights.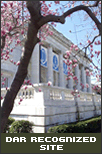 NATIONAL SOCIETY DAUGHTERS OF THE AMERICAN REVOLUTION
MAPLE HILL CHAPTER
Organized May 22, 2011 ~ Confirmed June 27, 2011
—
Maple Hill Chapter, National Society Daughters of the American Revolution,
was organized May 22, 2011, by Candace Oglivie Krugh (Mrs. Waymon Searl).
The meeting was held in the fellowship hall at
Faith Presbyterian Church, Huntsville, Alabama.
Marguerite "Rita" Poole Horton, State Regent, was the honored guest.
Maple Hill Chapter takes its name from Maple Hill Cemetery,
said to be the oldest and largest cemetery in Alabama.
Maple Hill Cemetery was established in 1818
when Leroy Pope sold two acres of land to the City of Huntsville for $75.
Designated a historic landmark by the Alabama Historical Association in 1962,
its occupants include five governors of Alabama, five United States senators,
and numerous other figures of local, state, and national note.
It is located east of the Twickenham Historic District.
The Huntsville Meridian intersects Maple Hill Cemetery.
Platted in 1807 by surveyor Thomas Freeman,
it is the longitudinal line from which all land in North Alabama was surveyed.
The tallest monument in the cemetery was erected on the meridian by another surveyor,
Richard W. Anderson, "in memory of deceased relatives and to
perpetuate the Huntsville Meridian."
Historic Preservation ~ Education ~ Patriotism
For more than a century, members of the
National Society Daughters of the American Revolution (NSDAR)
have promoted activities in historic preservation, education, and patriotism
that express an immense gratitude to, and love for this nation,
and that foster a similar devotion in our citizens.
These goals are as relevant in today's society as they were
in 1890 when the organization was founded.
Volunteers from the Maple Hill Chapter
support the NSDAR's three objectives of
historic preservation, education, and patriotism
by promoting a variety of activities in our local communities.
Chapter Officers
2020-2022
APPOINTED BY THE CHAPTER REGENT
Parliamentarian
TBD
HONORARY CHAPTER REGENTS
Candace Ogilvie Krugh
(Organizing Regent, 2011-2012)
~
Janet Ewing Deaton
(Regent 2012-2014)
~
Stephany Wilson Wingard
(Regent 2014-2016)
~
Geanine Robinson Lehmann
(Regent 2016-2018)
~
Kitty Lu Hallman LaBay
(Regent 2018-2020)
Regent
Mary Ann Stasiak
​
First Vice Regent
Penny Chilton
Chaplain
Janet Acosta
​
Recording Secretary
Geanine Lehmann
Corresponding Secretary
Lisa Philippart
Treasurer
TBD
Registrar
Manda Colburn
Historian
Cyndi Swinea
​
Librarian
Anne McKinley